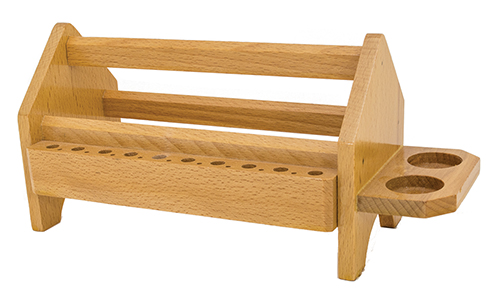 Wood Pliers and Jewelry Tool Rack
Organize and neatly store your jeweler's pliers and other jewelry tools on this solid wood tool rack.
SKU

130.400
Solid wood jeweler's pliers rack provides neat and easy access to your most used pliers and other tools. 7-3/4" top bar holds pliers, nine drilled holes store burs, and ten 3/8" diameter x 1" deep holes for small tools like screwdrivers, drill bits, solder wire, etc. The side tray extension features two round 1/4" deep depressions that hold small parts, bottles, solder, or other accessories.
A perfect organizer for any craftsman's workbench.
11" L x 5" H x 4-5/16" W.
Materials/Ingredients
Solid wood.
This item is typically in stock and ready to ship via UPS Ground. Orders received before 3PM Monday through Friday ship the same day.