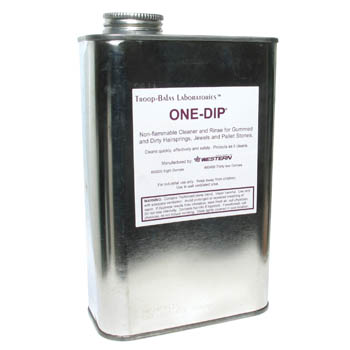 One Dip Cleaner and Degreaser 1 Quart - Ships UPS Ground Only
One Dip cleans rapidly, effectively and safely.
Protects as it cleans.
Cannot be shipped by air or outside of the continental U.S.
SKU

820.509
One Dip Cleaner and Degreaser protects as it cleans. Removes oil, lubricants, wax, adhesives, ink, flux and more from watches and watch parts. Use as a dip or spray, wiped or brushed, in an ultrasonic or as a soak. Non-flammable cleaner and rinse for gummed and dirty hairsprings, jewels, and pallet stones. 32 ounces.
Ships via UPS Ground only. Please select UPS Ground in the Shopping Cart for the most accurate shipping estimate.
How to Use
For industrial use only. Keep away from children. Use in a well ventilated area.
LIQUID CLEANER
UPS GROUND ONLY - 5 LBS. - LIQUID