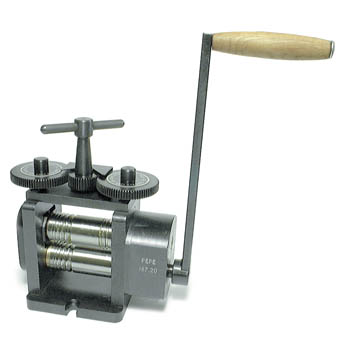 Rolling Mill PEPETools
PEPETools. Gear ratio 4:1. Roller diameter 42.6mm, width 90mm. Ring shank 2.5 x 1, 3 x 1.25, 4 x 1.5mm. Additional shipping charges apply.
SKU

280.195
PEPETools Full Combination Rolling Mill requires minimal effort from you. Plate steel (not cast metal) construction allows for better geometry, closer tolerances.
Roller hardness 60-62 Rockwell. Carbon tool steel rollers are capable of producing metal foil as thin as .001".
4:1 gear ratio transfers force from the handle to the rolls with minimal effort from the operator.
Roller diameter: 42.6mm, width: 90mm. Maximum opening: 0-4mm
Flat area: 38mm. Square wire: 1.5, 2.0, 3.0, 4.0 and 5.0mm.
Ring Shank (half round): 2.5x1, 3x1.25, 4x1.5mm.
Dimensions: 10"L x 43⁄4"W x 101⁄4"H (not including handle).
Shipping Weight: 34lbs., F.O.B. Cincinnati, Ohio