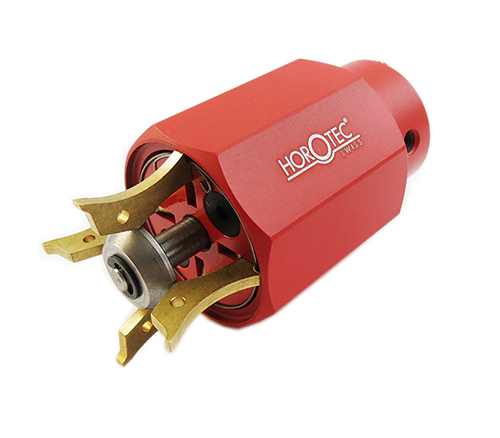 Polishing Vise for Motor, 25-50mm
Horotec polishing vise for polishing motors grips from the inside from 25mm to 50mm.
SKU

470.524
Horotec polishing vise tool with four brass claws. Tightens from 25mm to 50mm, gripping item from the inside.
How to Use
Manual Use:
Adjust the brass claws by turning the end cylinder clockwise. Claws grip the item to be polished from the inside. Hexagonal vise is easy and secure to grip while manually polishing.
Polishing Motor Arbor Use:
First, fix the piece to be polished on the brass claws. Then fix the vise on the polishing motor arbor and tighten it with two screws using the provided hex key.
14mm end cylinder attaches the vise to the motor arbor. Optional reduction die available to fit 9mm motor axle.
14mm reaming diameter. Size 39 x 80mm.