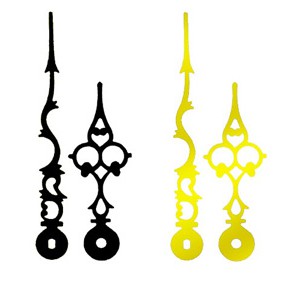 Clock Hands 4-1/8" Serpentine
Black or Brass Serpentine Style Hour & Minute hands. Minute hand measures 4-1/8" from center hole to tip.
A pair of hands are included FREE with each clock movement purchased. Additional hour and minute hands available as priced below.
SKU

980.103.1
Cas-Ker clock hands fit all of our quartz clock movements. Your choice of hour and minute hands are included FREE with any quartz clock movement purchase. Additional hands sold per pair at price listed above. Most hands available in black or brass finishes. If no clock hands are selected, we will choose a set for you. Second hands are not included and are sold separately. Additional charge for high-torque 5" and 6" clock hands.
980.103.1, Black Serpentine Clock Hands
980.103.5, Brass Serpentine Clock Hands
Most orders are shipped within 24 hours Monday through Friday, from Cincinnati Ohio USA.
Hands ordered with clock movements are shipped at no additional charge.