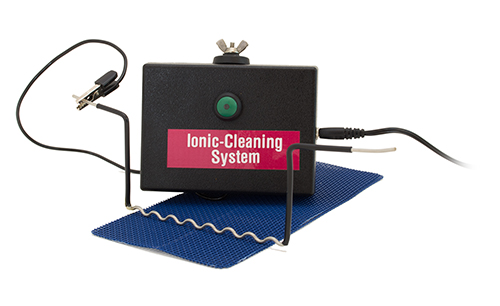 SpeedBrite 300SB Ionic Adapter for Ultrasonics
The SpeedBrite 300SB Ionic Adapter makes your ultrasonic a more efficient jewelry cleaner. Small adapter quickly and easily hangs on your ultrasonic and clips to the included ring hanger.
SKU

230.651
The SpeedBrite 300SB converts your ultrasonic to a super-powerful combo cleaner!
An ultrasonic with heat is great for removing dirt build-up from tight crevices. Ionic cleaners are the fastest way to remove tarnish from metal. The new 300SB adapter combines ultrasonic and ionic power for a more complete and efficient cleaning system.
Use alone or in conjunction with the ultrasonic.
Adapter easily hangs on the side of nearly any ultrasonic on the market, any size tank, and attaches to the included ring hanger.
One year warranty and free tech support.
How to Use
1. Place blue mesh screen at the bottom of your ultrasonic tank. Screen may be cut to fit.
2. Suspend the adapter on the outside of your ultrasonic tank using provided metal brace.
3. Hang the ring bar in the tank and attach adapter clip.
4. Add GemSparkle solution to tank as directed by your ultrasonic's instructions.
-- 1:6 ratio for heavily tarnished items
-- 1:8 ratio for light tarnished items
5. Fill tank to the rim with water, and maintain level to within 1/2" of rim.
6. Plug transformer into unit, then into wall outlet. (Always in that order).
7. Add jewelry to the ring bar to items do not touch.
8. Push ON button and run for the suggested time for the type of metal and number of items you are cleaning. (See included instructions).
9. Remove clip and rinse ring bar and jewelry under running tap water. Pat dry with cloth.
Ideal for trade shops.
Instant oxidation removal from GOLD
Instant tarnish removal from SILVER
Restores lustre on GOLD & SILVER
SAFER than ultrasonic
SAFE for all stones and diamonds
Uses same cleaning solution for gold and silver
Reduces cleaning time
Automatic cleaning cycle at the touch of a button
Materials/Ingredients
Includes 4-3/4" x 3-1/8" adapter with brace, mesh screen, AC power cord, stainless steel ring hanger, and 1 gallon Gem Sparkle Liquid Concentrate. Complete instructions included. Ultrasonic not included.
This item is typically IN STOCK and ready to ship.
Most orders are shipped from our facility with 24 hours, Monday through Friday.
Warranty
One year warranty from Speedbrite, Inc.
www.speedbrite.com