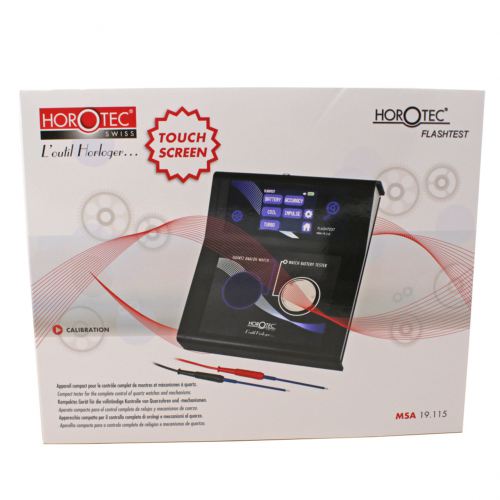 Watch Tester Horotec
Horotec Flashtest. Multifunction portable tester for analog quartz watches and movements. Tests battery, circuit, coil and step motor without opening the watch. Checks all other functions after opening the watch.
SKU

590.588
Horotec's precision Flashtest watch tester accommodates both open and closed watch cases on analog quartz watches. Use this handy device to determine battery status, electronic circuit and movement operation, and the potential to unjam wheels, drive train, hands and calendar parts.
Measures battery voltage from 0 to 19.999v.
Measures battery voltage under load from 0 to 19.999v.
Measures impulses from quartz watches to determine if a problem is electronic or mechanical.
Measures continuity of the coil.
Evaluates electronic circuit consumption to determine whether or not it needs replacement.
Measures consumption of the movement to determine if there is a mechanical problem indicating the need for cleaning or adjustment.
Measures accuracy of the analog quartz watches. (NOT for testing mechanical watches.)

The Horotec Flashtest is supplied with two precision probes, a 9V adaptor (input 220/110V AC - output 9V DC), a 9V alkaline battery, and a Userís Manual with Technical Guide, which contains the consumption and coil resistance data of the most common quartz movements.
Features a back-lit LCD screen 29 x 23 mm, numbers height 15 mm.
Accuracy of built in oscillator: appr. +/- 0.2 sec/day
Accuracy of calibrators: appr. +/- 3 sec/month
Voltage: 110v/220v. Dimensions: 6.1" x 6.8" x 2.25" (155mm x 172mm x 55mm).
This item is typically IN STOCK and ready to ship.
Most orders are shipped from our facility within 24 hours, Monday through Friday.
See Shipping Info link at bottom of page for more details.