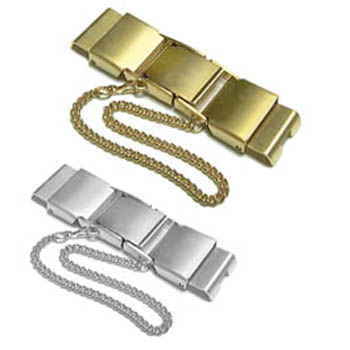 Clasps, Seiko Style with Safety Chain Individual
Seiko style Clasps with a Safety Chain. Yellow and White foldover clasps in sizes: 5, 6, 7, 8, 9 and 15mm (15mm Yellow not available). Price Each.
SKU

902.000.50.13
Safety Chain Refills Nos.904.002 & 904.003.
Spring Bar Refills Nos.900.084.02 & 900.084.09.
Refills for Assortment 902.000.
Most orders leave our Cincinnati, Ohio warehouse within 1 to 24 hours of your order. Almost all orders are shipped same day.