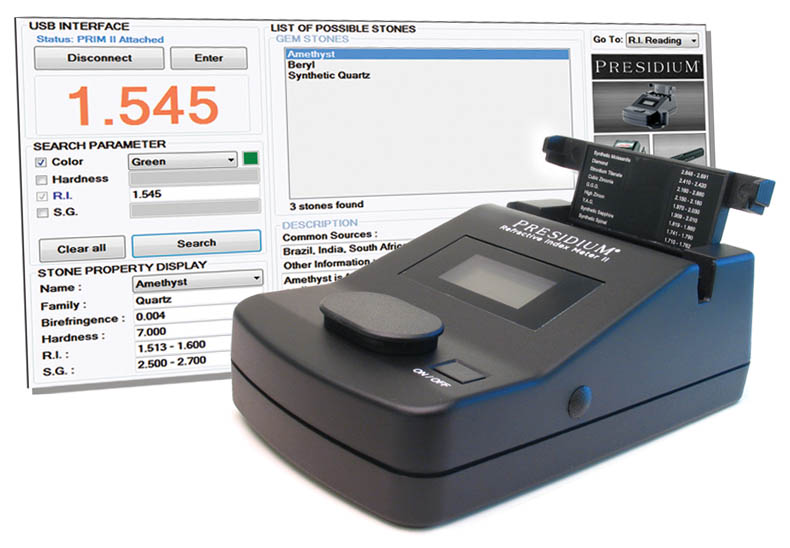 Gemstone Identifier Presidium Refractive Index Meter II
Presidium Refractive Index Meter II instantly identifies diamonds, moissanites, and colored gemstones based on their Refractive Index.
SKU

590.730
By accurately measuring the quantity of light reflected through the gemstone, Presidium Refractive Index Meter (PRIM) is able to differentiate between diamonds, moissanites and other colored gemstones via their Refractive Index (R.I.). Unlike a traditional refractometer it is able to measure the range of R.I. value from 1,000 to ~3,000 therefore covering the commonly known gemstones in the market. In addition the fast and easy test can be done without the inconvenience and messy usage of the R.I. liquid, making it quick and easy for you.Measurement Range: 1,000 to ~3,000.
Measures only 5.5" x 3.15" x 1.3".
Method of Measurement: Reflectivity.
Measurement Range: 1,000 to ~3,000.
Clear and easy-to-read direct R.I. LCD display panel.
Software included for further elimination of identity of possible gemstones.
Compact, portable and handy. Powered either by AC via a USB connection (cord included) or one 9V battery (not included).
Tests polished gemstones of any shape.
R.I. Chart Reference and Protective Case included.
How to Use
This item is typically IN STOCK and ready to ship.
Most orders are shipped from our facility with 24 hours, Monday through Friday.