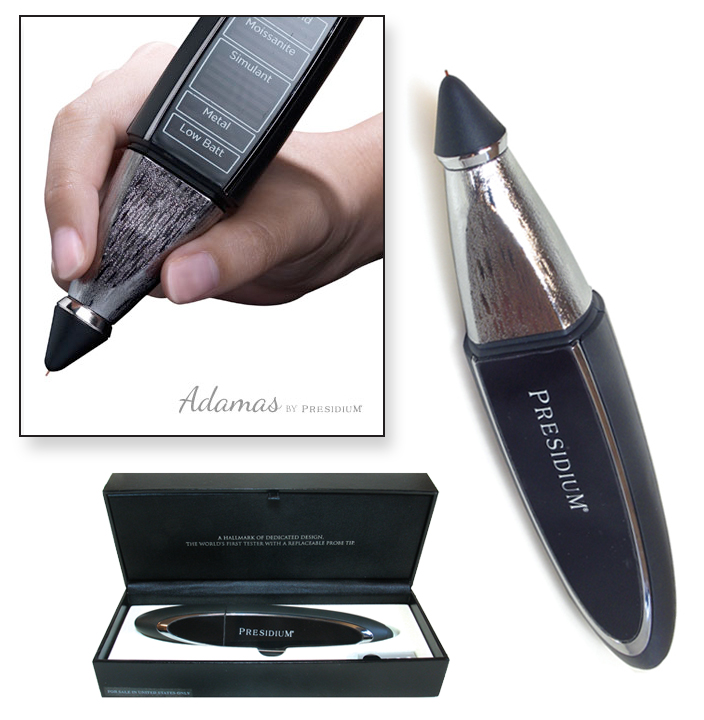 Presidium Adamas Diamond & Moissanite Tester
Adamas, the world's first diamond and moissanite tester with both replaceable probe tip and micro probe tip (sold separately). A revolutionary innovation!
SKU

590.750
Driven by practical innovation and a pursuit of ergonomic aesthetics, the replaceable tip minimizes equipment downtime and the micro tip has the ability to measure even diamond melees as small as 0.01 carats.
Built for optimal performance:
Identifies diamonds, moissanites, simulants and metals instantly.
Accurate testing on diamonds as small as 0.01ct with optional micro tip (sold separately #590.752).
Retractable thermoelectric probe tip that ensures constant pressure between probe and gemstone, for enhanced accuracy.
Ability to store and save test data.
Light and portable.
Simple and easy to use.
Specifications:
3 x AAA batteries (approx. 12 hours of continuous operation, not included).
Power via USB to computer system or power adaptor.
Length: 189mm (7.44 inches).
Width: 36mm (1.42 inches).
Height: 27.9mm (1.10 inches).
Weight: 78.5g (2.77 oz)
Also for use with Presidium® USB Universal Power Adaptor (optional item sold separately by Presidium®).
Additional shipping charge. See cart.