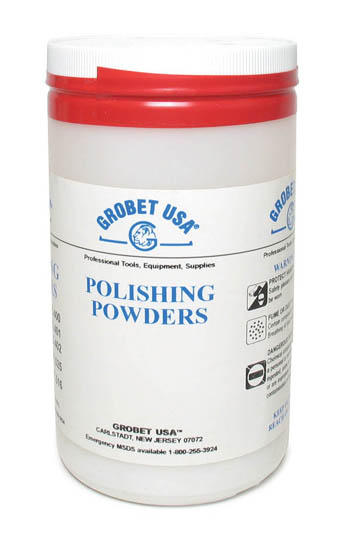 Pumice Polishing Powder
Grobet Polishing Powder compositions for use with hand buffs, brushes, felts and wood laps.
Available in three grits: 200, 150, or 80. Select below - price will update in cart.
SKU

231.400
Pumice Powder is great for scrubbing, cleaning or polishing. 1 lb.
Available in three grits:
231.400 200 Flour Texture Pumice
231.401 150 Fine Texture Pumice
231.402 80 Medium Texture Pumice
How to Use
Mix with water or fine oil to form a paste that will impart a high luster.
Cas-Ker has a complete line of Grobet Polishing Powder Compositions available.
Red Rouge 471.510 for platinum, gold, and silver.
Tin Oxide 471.516 for lens polishing and other glassware, as well as fine steel.
Linde A 471.520 for precious gems, gold, silver, and more.
Ruby Powder 471.524 or 471.525 for a high luster on platinum, gold, steel, precious stones, pearl, ivory, horn shell and porcelain.
Pumice Powder 231.400, 231.401, or 231.402 for scrubbing, cleaning, or polishing
Special Order. Please allow 5 to 7 business days for delivery.