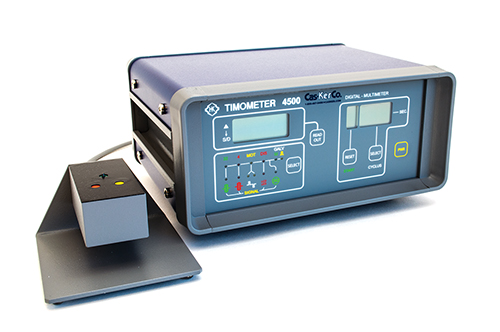 Greiner Timometer 4500
Inquires please email: Tools@casker.com
The Greiner Timometer 4500 is used in calibration of timing devices.
NOW IN STOCK - LIMITED - ORDER SOON
SKU

590.958
Features:
Highly accurate time standard that utilizes oscillating crystal technology and an acoustic pickup microphone.
Calibrates timing devices including quartz, mechanical and LCD stopwatches using new technology (DFC, ESATUNING, etc.).
Traceable to NIST standard (National Institute of Standards and Technology).
Capable of both "as found" and "as left" conditions.
Easy touch-key operation.
Accuracy 0.03 sec/day.
Metrology.
Made in Germany.
For product inquiries please call 1-800-487-0408 and ask for the Tool Department.
Financing available through ACG Equipment Finance.
How to Use
Complete operating instructions included.
Performs all acoustic, capacitive, inductive, and display test operations for quartz watches with digital frequency correction (DFC), and also measures the rate of all standard mechanical watches. Test clocks using a connected digital multi-tester TT-4500. Touch-key function entry. Colored light diode indicators. LCD cycle time and cycle state indicator.
Additional Shipping Charges Apply.