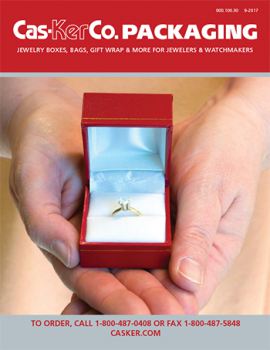 Cas-Ker Packaging Catalog
Keep Cas-Ker's convenient Packaging Catalog on hand to easily order the boxes, bags, and gift wrap you need in your store.
SKU

900.106.30
Delight your customers at every moment of jewelry or watch buying! Wrap up each sale with elegant and affordable packaging from Cas-Ker.
If you prefer, you can download a digital pdf version of our catalog. Click here to download.
Cas-Ker's Packaging Catalog is available in print or as a digital download file.
New! Click the product photo in our latest digital Packaging Catalog to see more information about that product.
How to Use
Add our Packaging Catalog to your cart to receive a black-and-white print catalog with your order, or click the link above to download a full-color screen-optimized digital version.
Prices are wholesale for approved Cas-Ker customers only. Catalog prices subject to change.
N/A