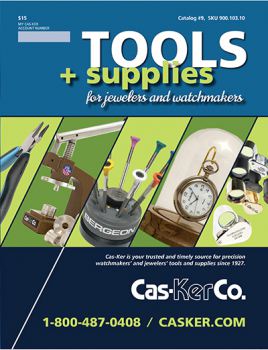 Cas-Ker Tools & Supplies Catalog
Cas-Ker's Tool & Supply Catalog is an invaluable reference to thousands of products for professional jewelers and watchmakers. Catalog No. 9 includes 448 pages of quality products, with both a numerical SKU index and alphabetical index.
SKU

900.103.10
If you prefer, you can download a digital pdf version of our catalog. Click here to download.
Cas-Ker's 2018 Tool & Supply Catalog is available in print or as a digital download file.
How to Use
Add our Tool + Supply Catalog to your cart to receive a print catalog with your order, or click the link above to download a screen-optimized digital version.
N/A